Blade selection
2016-10-19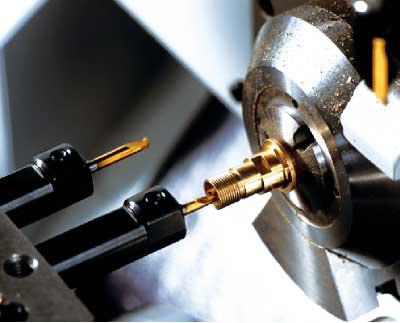 First, most indexable inserts have a rounded tip that strengthens the cutting edge(

tile cutter wheel

). If the depth of cut is less than the radius of the tool nose, the (equivalent) main declination at this time is generally possible.
Therefore, the round blade is particularly suitable for heat-resistant super alloy turning, because the blade radius is above the tip radius of the arc, and usually the cutting depth is much lower than the blade radius. R-blade (

round blade

) in a wide range of cutting depth have a small angle of the main.
If a larger depth of cut than the operating range of the circular insert must be used, a square blade with a 45 ° main declination is a good choice. S-type blades (square blades) with a solid cutting edge, very suitable for roughing.


If, for some reason, the workpiece is limited by the cutting tool, or if the outer and end faces must be machined with the same tool, or the cavity of the finish turning, and the workpiece is not stable or thin, the appropriate tool nose radius Of the diamond blade.
However, in many cases, Xcel blade is the best choice for semi-coarse / finishing operations. This blade combines the advantages of a small main angle of the square insert with the strength of the cutting edge and the flexibility of the diamond insert in the direction of the cutting edge. It is particularly advantageous to use a Xcel blade roughing step.
The final stages of the machining strategy include blade geometry and material selection as well as the use of correct cutting parameters. The choice of these factors must take full account of the material of the part, the structural design and the specific conditions in the cutting process. As for the cutting parameters, it refers to the cutting speed, feed and can not be ignored the depth of these three elements. In practice, tool path policy has become increasingly important tool, the correct path tool path policy can bring huge benefits to users.