Thermal spray application characteristics
2017-02-02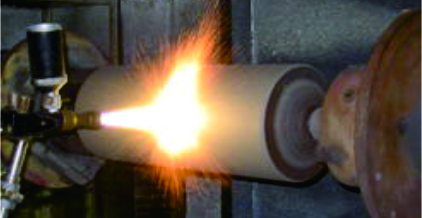 At present,

thermal spraying technology

has been widely used in China, the main application areas are aviation, aerospace, steel, petrochemical, steel structure corrosion, machinery, light industry, textile, paper, energy, ship, the total output value of about 200 million Yuan / year. China's thermal spraying applications have the following characteristics:
⑴ application range, in some areas have a very high level, such as aircraft engines (with Boeing), annealing furnace bottom roller, galvanized guide roll (steel industry), valves (petrochemical industry), drawing roller, tower Wheel, drawing wire, etc. (textile industry), high-grade glass mold (light industry), the valve (the automotive industry).
⑵ widely used process and materials, almost the current international use of

thermal spraying

processes and materials, China are using, such as vacuum plasma spraying, atmospheric plasma spraying, explosive spraying, supersonic flame spraying, arc spraying, flame powder coating, plasma Surfacing, laser remelting, vacuum (protective atmosphere) remelting and so on.
(3) Engaged in thermal spray application (Job Shop) enterprises to small and medium enterprises (<30), the total number of 2/3, the output value of more than 75% of GDP. Joint-stock cooperative enterprises, private enterprises, collective enterprises accounted for a considerable proportion of co-owned enterprises began to appear.
⑷ thermal spraying as a device, parts of the more developed means of maintenance, medium and small thermal spraying business, more than half of the work is for the repair.
⑸ research institutes, universities and relevant professional research, teaching and research, such as welding (accounting for more than half), materials, surface processing and other professional, and actively enter the domestic thermal spraying market.
For more information please link our company official website:
http://www.langfengmetallic.com/
, please contact: postmaster@langfengmetallic.com