Lang feng Metallic go to Germany to Exhibite titanium carbide rod
2016-03-24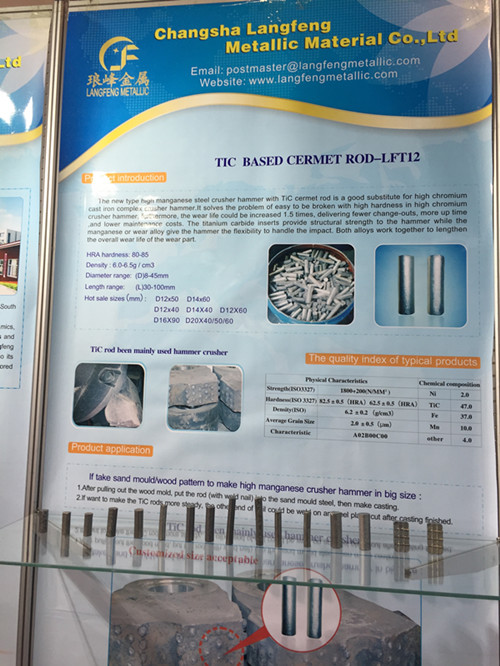 6-8 March 2016, the International Hardware Fair in Cologne, Germany. Changsha Lang Feng Metallic Company Ltd. Mr. Liu Zhaohui Zhang Lu led the export manager in charge of foreign trade and Zou Lan participated in the exhibition.
2. The density: 6.0 to 6.5 g/cm3;
Titanium carbide wear parts are mainly applied to the

alloy

ball, hammer head, alloy plate and large crusher hammers, large ball mill wearing parts, improve the service life of equipment;
The main characteristic of the TiC inserts: high temperature corrosion resistance, wear resistance;
1) steel is suitable for the high manganese steel material.
2) steel casting than normal without the improvement of TIC 60-100 degrees,
3)before make and fly a TIC rod boron salt water soaking liquid, remove dry and then use (DNA)
4) casting, fixed first TIC on steel, JiaoGangShui again, (because the density of TIC is lighter than steel,
Without fixed first TIC rods, stick instability.
5) after forming, heat treatment, and water toughening treatment with high manganese steel water.
Stay tuned for detailed product information company official website:
http://www.langfengmetallic.com/
, please contact: angela@metalcarbidepowder.com