Cutting is a common step in the field of machining
2016-06-20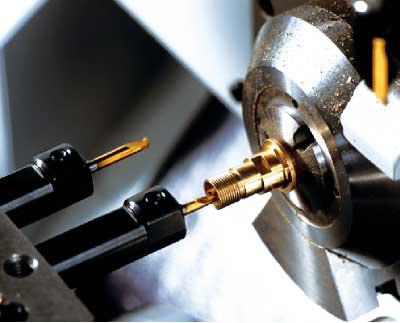 Cutting

is a common step in the field of machining, the process seems simple, straightforward, but actually contains a lot of factors, faces numerous technical challenges, to select and apply the appropriate cutting tool to solve the problem, all this can be solved.


Production processes need to be performed often include bar, tube and mechanical parts cut off. As a turning step, although a large number of cutting involves only the workpiece diameter in the range of 12 ~ 50mm, but actually cut the workpiece diameter range can cover is 0.5 ~ 800mm. Because this process is often located in the first step or the last step, so it must be good processing quality assurance. Among the most important cutting diameter. To make the process more efficient, its tool clamping, type, size and even slotted it are closely linked. Only through keeping up with the pace of technological development of

cutting tools

and cutting methods, in order to be more competitive in the processing and multi-tasking turning parts Parts aspect.


Off challenge


Cutting process looks very simple, but in fact in the modern high productivity turning conditions safely perform these processes need to overcome many challenges. Mainly include: burr and burr formation, chip formation and chip removal, vibration trends and inconsistent and premature tool wear. When the workshop to perform the cutting process, enterprises are concerned about the efficiency of production, processing stability, trouble free machining, tool life, predictability and consistency of parts quality problems. If the use of appropriate tools and applications, these issues Jieke solved.
For more information please link our company official website:
http://www.langfengmetallic.com/
, please contact: postmaster@langfengmetallic.com