TiC-based cermet introduction
2016-07-06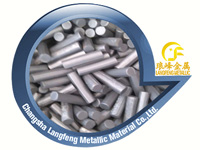 Since 1927, various materials have been investigated to improve tool life and mechanical properties of cermets and

cutting tools

that are extensively utilized; roughly two billion-dollar allot-ment in semi-finishing and finishing works have been allotted for polymers, ferrous alloys, nonferrous alloys, and advanced materials such as intermetallics and composites.
Cermets present ben-eficial resistance to oxidation throughout metal machining and build up edge formation towing to their good chemical stability and high-temperature hardness. In general, cermets include two different phases (i.e.,

ceramic and metal binder

).The ceramic parts retain the high hardness and cutting ability, but the softer phase(binder) can deform and absorb energy.
The ceramics are compounds of carbon, nitrogen, oxide, boron, and silicon with metals such as tungsten, titanium, tantalum, niobium, aluminum, and molybdenum. Among those, carbides are very stiff and have high melting temperature, ranging from 2000 LC to 4000 LC, and their hardness is second to that of diamond, which is the hardest known material.
For more information please link:
www.langfengmetal.com
, please contact:angela@metalcarbidepowder.com