Laboratory Industrial Microwave Muffle Furnace Introduction
2016-09-22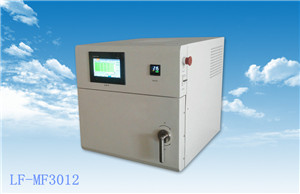 Microwave Muffle Furnace

is available with your choice of either a High Temperature or High Capacity furnace. The High Temperature furnaces reach 1,300 °C and can process up to eight 25-ml crucibles. For laboratories needing greater throughput, the High Capacity furnaces reach 1,000°C and hold up to fifteen 25-ml crucibles. Any crucible that can be used in a conventional

muffle furnace

(including platinum) can also be used in the Microwave Muffle Furnace.
laboratory Industrial Microwave Muffle Furnace and price is a new generation of experiment, research and development, production of LF-MF3012 laboratory Industrial Microwave Muffle Furnace and price,with intelligence, box, energy saving, the integration of the various features, is the use of advanced microwave heating the material directly mode, quickly heating the material quickly reaches a high temperature at the same time, good uniformity, there will be some traditional heating and sintering can not reach, such as uniform, fine grain size, high sintering density, reaction more fully.
For more information please link:

www.industryequips.com

, please contact:postmaster@industrialmicrowavefurnace.com