The Elements Effect TaC Production
2016-05-26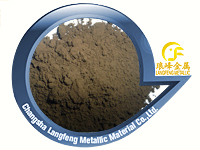 Changsha Langfeng Metallic Material Co.,Ltd , take high purity Ta2O5 and imported carbon black to produce

TaC Tantalum carbide powder

. The finer of raw materials' particle size, the faster of carbonization will be. As a result ,the finished product TaC powder 's particle size will be fine. Ta2O5's particle size is much finer than metal powder, like Tantalum powder. This could makes the carbide powders' production easier. Ta2O5's fine particle size and its low temperature phase structure are two important elements in the production of Tac powder in fine particle size in traditional solid carbonization technology.